Casement Windows Installation in Pittsburg, PA
Vinyl casement windows (also sometimes referred to as awnings) are functional and the most energy-efficient window available. They are set within a frame with hinges on one side that you can open fully them, giving you extra air and light. We often use them as the windows that make up bow windows or the ends for bay or picture windows. They are airtight and useful in any home.
Homeowners like the Benefits of Casement Windows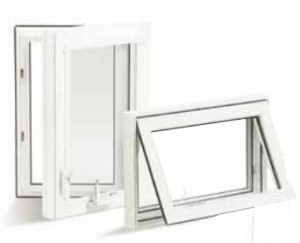 They provide great air circulation. Since these windows can be fully pushed open with a crank, you can use them for ventilation in the kitchen, or more air in your living room or bedroom. If you prefer to keep your windows open most of the day, just be sure to have a screen installed to keep bugs out of your home.
They are highly energy efficient. Since they can be locked when they are closed, casement windows keep the cold and warm air out of your home more effectively than any other window. They are very popular in older homes with many windows because their locking mechanism, combined with coated glass and the gas trapped between the panes, will keep energy bills way down.
Vinyl Casement Replacement Window Styles
Casement windows are far from ordinary. You can customize your windows to precisely fit the style and architecture of your home's interior and exterior. You can choose vertical casement windows, which are hinged on one side and swing out, or horizontal windows, which are hinged on the top and can be pushed out on the bottom.
The Quantum2 Casement/Awning Windows can include:
Different Frame Color Choices: exterior colors range from green, tan, bronze, and white, and you can choose wood grain laminates in cherry, oak, and pecan.
Elegant Grilles: Grilles offer a decorative touch and are often in the popular Colonial style. However, you can choose perimeter, Queen Anne, and Diamond patterns too.
Decorative Glass: Beveled glass creates an artistic look and can also be surrounding by gold, silver, or black caming.
We're Your Solutions for Energy Efficient Casement Windows
If you're looking for unmatched style and the most energy-efficient window on the market, consider a casement window. Call Mt. Pleasant Window today at 724-264-3252 or complete our complete our contact form. We'll come out to your house and give you a free estimate for affordable vinyl casement replacement windows.
Contact Mt. Pleasant Windows Today!
Looking for a price? Get a no cost, no obligation!
Free Estimate!