Entry Doors in Pittsburgh, PA
Give Your Home an Added Wow Factor!
At Mt. Pleasant Window & Remodeling, we will help you wow your friends and neighbors, before they even step into your house. With our entry door services, your entry door can provide a stunning impression of your home, as your guests walk through. Having an enhanced entryway will have a grand impact on your home's curb appeal. In fact, a remodeled entry way door can increase your home's perceived value by as much as five times your original investment.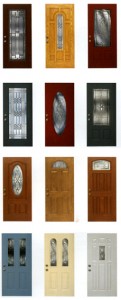 Other than creating a customized place where people want to enter and feel welcome, our entryway door installations are also resourceful. Since having a home that is certified as energy efficient is more important now than ever, all of our entry door systems are also Energy Star qualified. Increase the value of your home while decreasing your energy bills by adding custom aesthetics and energy efficiency, with some of our elite door models.
We have several types of Pro Via Entry Doors available with a wide variety of clear and decorative glass designs to meet your own specific style tastes. At Mt. Pleasant Window & Remodeling, we have door models available for front entryways, side entries, back entries and patio entrance ways available.
Fiberglass Doors
With variable depths of wood grain textures, and hand applied stains, these doors produce an authentic wooden door appearance. Fiberglass Doors are also quite durable, resisting splits, cracks and warping, due to specially engineered fiberglass door facings. The lock areas of theses doors are reinforced for a solid mounting surface, making for a beautiful, strong and reliable entrance way door.
Steel Doors
Our Legacy steel doors are available in wood grain, textured and smoothed steel. Our 20-gauge steel doors give you 49% more galvanized steel then a standard 24-gauge door. The special adhesive and thermal barrier used reduces heat and cold transfer, while the tab and slot system of mechanical interlocks gives the door exceptional structural strength. With the strength of steel and the beauty of your own style preference, these doors provide an elegant, durable and energy efficient entry-way to any home.
French Double Doors
No matter your entry way location, adding a set of French double doors to any entrance will make for an elegant statement about your home. All of our door styles are available as a French Double Door set, complete with a full wooden frame. These doors are also able to have either an in-swing or out-swing opening, from either the left or right door active—making for even more customizability.
See samples of our work in our virtual gallery!
Interested in learning more about the doors that Mt. Pleasant Window and Remodeling carries?
Contact Mt. Pleasant Windows Today!
Looking for a price? Get a no cost, no obligation!
Free Estimate!