Changing The Size Of Your Windows A New Look For Your Home
Mt. Pleasant Window and Remodeling not only installs high-quality replacement windows—we also can install new, larger windows in place of older ones. It's become common for homeowners to decide to install windows that are bigger or are a different style. New windows can really upgrade the look of your house!
Why Do Homeowners Change Window Size?
There are quite a few reasons. Homeowners:
Want more light. Maybe their existing window is narrow or doesn't face the side of the house that receives the most sun. This problem can be solved by cutting out and adding a new, larger window.
Want a bay, bow, or picture window. Some homeowners like where the windows are placed in their home, but would like to add space, light, and air to the inside. The best ways to do that is by installing a bay or bow window.
Want a different window configuration. Some homeowners want to change sliders to double-hungs, or double hungs to casements.
Prefer the windows to have a different height. Window height in relation to the ceiling has changed over the years, and instead of a smaller window, homeowners would like to change to a larger window with more rectangular space and a better outdoor view.
Changing a Window Adds to the Whole House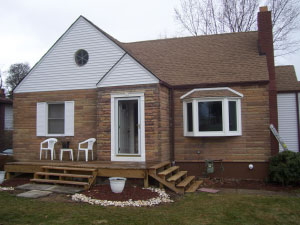 These homeowners in Westmoreland City wanted a bay window in an existing, double-hung window space. First, we met the homeowners at their house to take a look at the window they wanted to enlarge and change. We discussed their options, and they decided to replace the window with a bay window.
We removed the old window and shutters, then built out and installed a bay window by cutting into the front of their brick house to create a larger opening. Bay windows are three-panel windows that usually have a larger middle pane that's flanked by two side panes.
On the inside, the bay window is trimmed with real wood, and on the outside, we added a small roof with the same shingle pattern as their house roof. We also added white exterior trim, and as you see in the picture, it looks great with the white siding, window shutters, and door.
Benefits of a Larger Window
They also have more room in their living room now, since a bay window juts out from the home and provides more space inside for a window seat, decorations, or plants. The homeowners are also happy that this new window is so energy-efficient. It's keeping out the cold during the winter and the heat during the summer, while giving them a great view of their front yard.
Don't let the placement of an existing window stop you from getting a new window for your Westmoreland County home. Call Mt. Pleasant today for a free consultation.
Contact Mt. Pleasant Windows Today!
Looking for a price? Get a no cost, no obligation!
Free Estimate!