Mt. Pleasant Window and Remodeling gets a lot of call from people who are wondering what kind of replacement window options they have when they want to add extra room onto the interior of a home while increasing their home's curb appeal. We often tell them that a bow or bay window is one of the best ways to update both the inside and outside of your house. It looks great on both the inside and outside.
Here are some pictures of homes in Mt. Pleasant and Greensburg where we replaced the homeowners' aging windows with gorgeous bow and bay windows.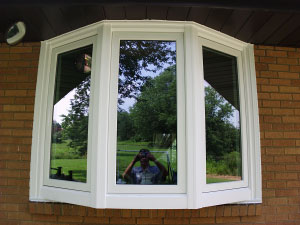 [/a>
Functional and Beautiful Bow Windows
These homeowners wanted to replace their front windows with something that would capture people's attention while still controlling their heating costs during cold Pittsburgh winters and their air conditioning costs in the humidity of the summer.
We suggested a vinyl bow window, which as you can see is curved and is usually made up of four or five separate windows.
The rounded shape of a bow window perfectly fit the frame of their house, giving it a "complete" look.
All windows on a bow window can be opened, allowing you extra ventilation during the spring and fall. The homeowners told us they loved having their windows open during mild weather, so a bow option seemed to be a great fit.
Bay Windows Add Sophistication
Bay windows are a three-window set with two smaller windows on each end and a larger window in the center that projects out from the walls of the house. Another homeowner who contacted us wanted to add some more space to the interior of her home, and she'd heard that a bay window can do that. We came out to her house, measured her old window, and then talked to her about a couple of options that would open her home's interior. With a new bay window, she was able to take advantage of:
Extra space in her living room. Since a bay window projects out of a house's walls, you can install shelving for books, plants, or decorations. You could also add a sitting area that you can use to enjoy the view outside.
Energy-efficient materials. Bay windows, like all new replacement windows, have energy-efficient components that block out the heat of the sun's rays while also limiting how much cold air passes through the glass into your home. In the Northeast, homeowners who replace single-pane windows with new double-hung windows can save more than $400 on their utility bills every year!
Call Mt. Pleasant Window and Remodeling today if you're thinking about replacing your windows with a beautiful bay or bow window. We'll be glad to come to your home and talk to you about your options for adding curb appeal.
Subscribe to Mt. Pleasant Window & Remodeling Co.'s Blog